Rachel Holmes Fitness Presenter and programme Creator of over 30 years is set to launch her most exciting and inclusive digital programme yet.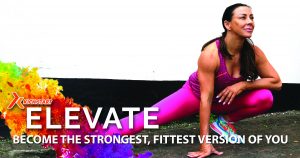 The new programme starting 2nd September embodies feeling your best at any age
" We are reaching for big goal this Autumn and the programme is about being in the best shape mentally and physically no matter your age" says Rachel.
It is easily accessible online so participants can take part all over the world.
The goal for the online group is to 'Be The Fittest, Strongest, Healthiest & Happiest of Your Life', Rachel can't wait to get started "Previous Elevate results have been phenomenal , I already have a team ready to start and can't wait to set some big goals and share my exciting new evidence based programme with them."
Kick Start Elevate Autumn is at the height of online fitness programming, workouts and evidence-based nutrition for optimum health, vitality and happiness plus harnessing the power of tech enabling you to make the best choices to get you faster to your goals. Biohacking and lifestyle tips to optimise Mind, Body & Soul.
The home workouts will improve strength, endurance and flexibility in easy to fit in 20 minute blocks.
The daily accountability within a supportive online group really pushes the members to feel positive and keep on going through the ups and downs of life, and with this being a 3 month programme, this is all about making a lifestyle change that can be maintained going forward.
"If it is weight loss you are looking for, maintenance, increased energy, vitality or balanced approach. Elevate will give you the tools to reach YOUR BIG Health goals harnessing the power of tech and accountability." Says Rachel.
Rachel's Daily Coaching allows the participants to ask questions and feel supported 5 days a week starting Monday 2nd September running until  Friday 29th November.
Elevate is made up for 3 progressive programmes – Elevate, Accelerate, Activate.
If you want more information and would like to join the group starting in September CLICK HERE
Posted on