Add your email for up to the minute info on KSFL diet & detox, Juicing,
Fatloss tips, Home Workouts,
Positive Self
Love, Affirmations & Happy Lifestyle
Updates
I emailed you a few weeks ago about Juicing
& I received such a huge response, I thought
I would follow up with our first
very simple & easy to create
KSFL® Breakfast Juice
Meet the KSFL Green Goddess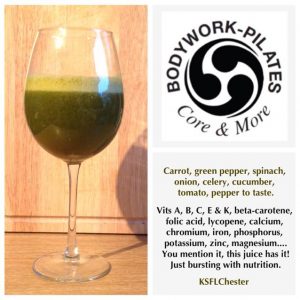 KSFLJUICING was born for all the breakfast rebels
who get a little fed up of eggs for brekkie and
eating the amount of veggies we suggest on the the
4 phases of Fatloss Kick Start Fat Loss
Elimination/Continuation/Maintenance & Lifestyle plans.
So here is the KSFL guide to becoming a
juicing Queen (or King) and easy peasy
tips for virgin juicers.
1. Always follow a recipe to start with – it lets you learn what goes with what and then as you become more confident you can start playing with it and owning it.
2. The best time of day to have a juice first thing in the morning helps the body get set up for the day or mid afternoon to carry yourself through the mid afternoon slump.
3. The best juicer, and trust me I have tested a few, for those of you just starting out is the Phillips HR1861 good volume of juice and not too difficult to clean.
4. You can prep ahead and freeze your juices so that cuts down on washing up etc.
5. Once you have got used to juicing and started to make your own recipes try and follow the 10% rule – only 10% of your juice should be fruit. Juicing is about getting your VEGGIES ON and you don't want to get a huge sugar spike from using too much fruit. STICK TO VEGGIES.
6. Organic is best BUT if the cost will hold you back – just get juicing and then start to add in the organic foods as you really make it part of your life and know that your health and vitality have no cost.
7. The best juicer to buy is the one that you will keep out on your worktop so it is always handy – set up your own home juice bar – so that every time you walk into your kitchen you see the respect and love you are prepared to show yourself.
8. Get your kids making their own juices – no holds barred and just watch how they love it and stand back as you get them eating veggies and fruit they would never have tried.
9.Create a  juice as your breakfast meal if you find a lunch style breakfast hard to get your head around.
10. Add bottled water for a long nutrient enriched drink- even looks like a cocktail the colours are so vivid.
QUICK TIPS on #KSFLJUICING
The #KSFLJUICING Queens advise to experiment when you feel a little more confident. There's no rules as such and depends entirely on your taste buds. some people can taste the slightest hint of ginger for example.
Todays Affirmation & Positive Thought
Today is all about being your own best friend.
Treat yourself with care, love & kindness.
Monitor your self talk. You would never talk
to a friend the way you do yourself.
Catch yourself today. Everytime you notice
yourself talking rubbish to yourself
& lets break this habit!
"Today I will be my own best friend"
If you make a juice take a pic & send
post it on Facebook or Twitter.
Have a blessed day
Love Rachel xx
You can grab the Fitness Pilates
Men On Mats 2 DVD
& Workbook today for £20 + VAT
http://www.choreographytogo.com/fitness-pilates/men-on-mats-dvds/
Are you GOING to IFS this weekend?
If you would like to chat about
Joining KSFL email me & lets meet for coffee
Add your email for up to the minute info on KSFL diet & detox, Juicing,
Fatloss tips, Home Workouts,
Positive Self
Love, Affirmations & Happy Lifestyle
Updates
Posted on