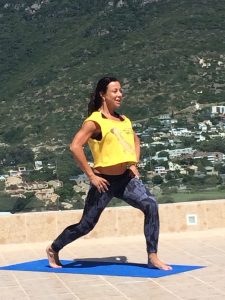 If in doubt….. Snap it out!
I love this positivity tip from Gabby Bernstein.
I've been using it loads this week
with my KSFL team.
If you find your mind & thoughts
steaming of down negative highway.
Or
Do you keep engaging in mental, damaging
negative self talk?
Or
Are you constantly beating yourself up
about how you look/your weight/your dress size
your body/your fitness/your job/classes
etc, etc, etc……?
Do you keep going over & over past
events that you can do nothing about?
Do you keep craving sugary foods &
straying from your clean eating
nutrition plan?
Try Snapping it out!
Place a rubber band (NOW) around your wrist.
Every time you catch yourself chatting some
negative s*** in your mind.
Flick the rubber band around your wrist.
OUCH!
It will literally SNAP you out of your
unconscious attack thoughts.
Practice it today. Right now go & find
a band.
Notice the negative thought, snap out of it
with your rubber band, and then use
a positive affirmation as a reminder that you
can think your way out of a negative
thought cycle.
It's an awesome way to train yourself
to stop negativity in it's tracks.
Let me know if you give it a try.
"Today I choose love & positivity"
Happy Sunday Snapping!
Love Rachel xx
Tweet me & let me know @RachelHolmes
Have you missed any of my Blog Posts this week?
Do you Eat Carbs? https://www.kickstartfatloss.net/2014/04/oh-i-dont-eat-carbs-do-you/
My Top 20 Fatloss Tips. https://www.kickstartfatloss.net/2014/04/friday-fatloss-tips-from-rachel/
American Diner Style Breakfast Ideas https://www.kickstartfatloss.net/2014/04/breakfast-ideas-american-diner-style/
Add your email for up to the minute info on KSFL diet & detox, Juicing,
Fatloss tips, Home Workouts,
Positive Self
Love, Affirmations & Happy Lifestyle
Updates
Posted on