There are SO MANY recipes online claiming they are 'clean' and yet they have some sneaky ingredients which mean they actually aren't!!
Do YOU know if you are using clean recipes?
These are the ingredients that I often find in these recipes and they are NOT CLEAN
Maple syrup
Honey
Agave nectar
These ingredients are all treated the same as sugar by the liver and raise cortisol the fat storing hormone !
Use KSFL recipes to ensure you are following the clean eating lifestyle without the worry of sneaky ingredients!
To receive FREE recipes and workouts from KSFL become a VIP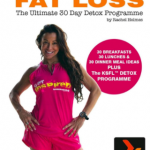 GET The Kick Start Your Fat Loss – The ULTIMATE 30 DAY DETOX Programme
PLUS my Home Total Body Conditioning HIIT WORKOUT DVD for the special package price of £25 + VAT + £3.50 postage/packaging CLICK HERE
Posted on