**Are you thinking that you have overdone it this weekend?
**Is it time to get your nutrition sorted out
and get back on the fitness train?
***As you have been on one of my online KSFL courses
over the years you may have slipped back into unhealthy
habits and need a bit of a "Kick Start"
My Kick Start Elite 35 Online Coaching Programme is different from any of the
quick fix online groups I have done before but
a long term full health transformation for women over 35.
I have extensively updated the information
and how it is delivered so if you are ready to really
make some changes why don't you jump back on
with me starting from now?
I have been talking food prep yesterday and today… why don't you join us
for the conversation?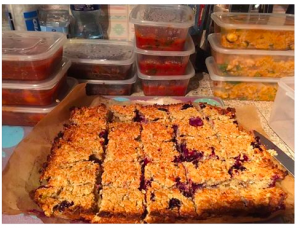 ***********************************
I'm getting so many emails from
Women wanting to know
exactly what they get and the benefits of
joining the Kick Start Elite 35 OnLine Coaching
Group so here is video
showing you whats involved and what you can expect.
Click here to see into the membership area
You can see into the membership area and
our LIVE Facebook coaching group.
I have run hundreds of ONLINE coaching
programmes
over the last
5 years but this is the most specialised with
the very latest information
plus
Daily LIVE Coaching to get you on track and
keep you motivated.
I'm getting daily emails from Women who are
feeling so stuck with weight loss
and health and I know I can help you.
I've created Stress protocols, Cortisol quizes
and Sleep Steps plus you get 21day Home workouts,
7 DAY DETOX and webinars on the very latest health
information
Have a look and see what you think :-
You can join right now and start making
headway with your health, weight and wellbeing.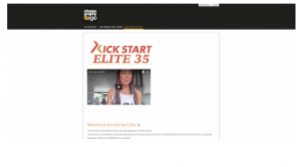 Read some of the reviews: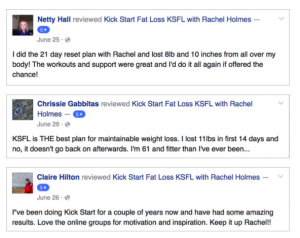 Decided to join ?
Click here to sign up right away
and get the following bonuses
7 Day Rescue Detox
21 Day Home Workouts
2 NOVA/UNITE workouts
MONTH 1 Destress Your LIFE for fat loss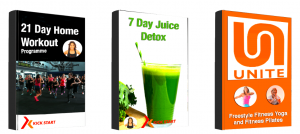 Let me know if I can help you 🙂
Best Wishes
Rachel xx
Posted on