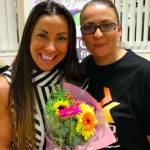 Yesterday saw the launch of KSFL Thetford with the wonderful Michelle Jermy!
On arrival we could see straight away the amount of effort Michelle and her team had put in… goody bags on each chair, a fantastic spread of clean food, loads of great prizes in the raffle including beauty treatments and photoshoots and a shop packed full of the most lovely KSFL kit designed by herself!!
Michelle introduced and I followed with some history and key information on KSFL . We then Heard from Rachel and Johnnie who had trialled KSFL with fantastic results!
The crowd were brilliant and had plenty of questions which are always welcomed. We then proceeded to the buffet which was F.A.N.T.A.S.T.I.C … Well done to Rachel Ellis who did a great job making Chocolate orange brownies, lettuce wraps, flapjacks, biscuits and more from the Clean Treats Recipe Book! The shop was buzzing and everyone really enjoyed themselves… a MASSIVE well done to everyone involved!
For more information on Michelle Jermy Fitness visit her website HERE.
Posted on