We have been making bone broth in the KSFL kitchen and thought we would share with you some recipes for those of you discovering your bone broth wings too!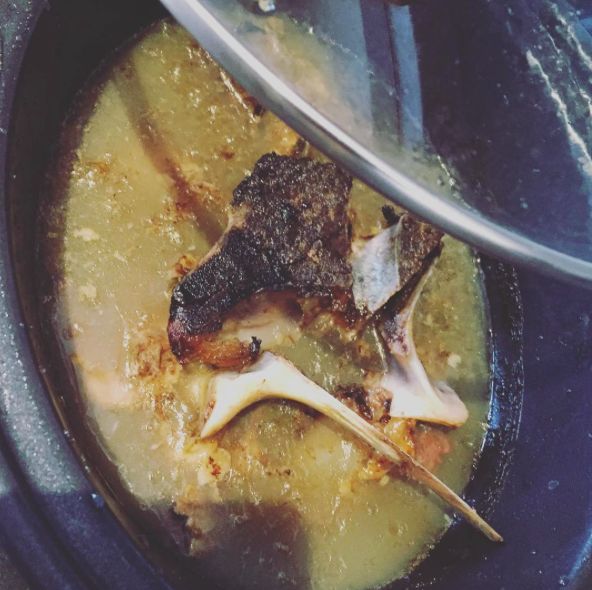 What is bone broth?
Bone Broth is usually made with bones which can be picked up free from your butchers. The bones are typically roasted first to improve the flavour. Bone broths are simmered for a very long period of time in a slow cooker, with the purpose being not only to produce gelatin from collagen-rich joints but also to release minerals from bones. At the end of cooking, the bones should crumble when pressed lightly between your thumb and forefinger. You can use your bone broth to braise meats and vegetables as well as in soups, sauces and stews.
Here are some recipes for you to try:
Black bean and chicken soup
Ingredients
2 tbsp grass fed butter
1 yellow onion (chopped fine)
1 tsp cumin
1 tsp chilli powder
1 tsp Mexican oregano
1 quart chicken broth
1 cup prepared salsa
2 cups cooked chicken (chopped)
1 1/2 cups cooked black beans
Instructions
In a soup pot, heat butter in a skillet over medium-high heat until melted, then add chopped yellow onion and fry until translucent, about 4 minutes.
Stir in cumin, chili powder and Mexican oregano into the mixture of onions and butter, continuing to cook for about one to two minutes.
Add chicken broth and salsa to the onions, butter, cumin and oregano.
Add cooked chicken and black beans to the soup pot, reduce heat to medium-low and simmer uncovered for approximately ten to fifteen minutes.
Beef roast
Ingredients
2 tbsp grass-fed butter
2 1/2 to 3 lb grass-fed beef rump roast
5 medium carrots (peeled and chopped into bite-sized pieces)
3 medium parsnips (peeled and chopped into bite-sized pieces)
2 medium turnips (peeled and chopped into bit-sized pieces)
2 tbsp whole black peppercorns
2 bay leafs
1 bunch thyme
1 cup beef stock (preferably homemade)
1 bunch fresh parsley (chopped fine)
Instructions
Preheat the oven to 325 degrees Fahrenheit.
In a heavy-bottomed, oven-proof Dutch oven or clay baker, heat butter until melted. Gently brown the roast on all sides in the butter and set aside.
Add chopped carrots, parsnips and turnips to the Dutch oven or clay baker.
Season the beef and vegetables with bay leafs, thyme and whole black peppercorns.
Pour beef stock over the vegetables and meat, place in the oven and bake, covered, for three to four hours.
Remove from oven and garnish with chopped fresh parsley.
I hope you found this post useful… please share your thought and bone broth recipes with us using #bonebroth @KSFLUK or on our FACEBOOK group !
Posted on