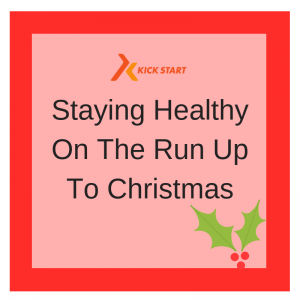 Staying Healthy On The Run Up To Christmas
Hello and Happy Monday 
10 Minute Workout Tip Of The Week – Are you feeling like the to do list is getting longer with so many things to do every day?
I've created a slow and relaxing seated and gentle Fitness Pilates Stretch and mobility workout for you to do at home this week. It' suitable for everyone and will 100% give you a mental detox. Click the link above and let me know how you get on.
Getting to the gym or a class can get squeezed out of your schedule this week so set up a corner/room or use your garage and create a home workout space.
Put a mat down, grab some weights and somewhere to prop up your ipad or lap top and make a pledge to do a home workout every day…..for your mental cognition as much as anything. 
Reframe how you think of exercise.  Rather than something to burn off calories, shift your focus.
15 minutes of exercise at the start of your day before the rest of the house wakes up will improve your mental health, positivity, self-confidence, happiness and general wellbeing plus all of the other usual health benefits.
If you need accountability post a sweaty selfie picture or tag me on Facebook or Instagram use the #kickstartfatloss #elevate2019 and Ill find you and send you a message.
I've added a fab festive smoothie recipe for you this week that is great for the whole family. You can sign up for the 7 day Midsection Meltdown or get organised for 14 weeks of health and wellness starting on the 7th January.
Have a great week and if you need help with your diet, fitness and nutrition drop me a message.
Rachel x
Feeling bloated?
Do you need a 7 day programme to follow you can start right away?
There is no facebook group so start NOW with access to a daily nutrition and food video and a midsection home workout every day.
Log in on your phone and start right away.
This programme has had amazing results.
Join the 7 Day Midsection Meltdown Programme 
2019 Online Programme Elevate High Performance Weightloss and Wellness 
The next ELEVATE Programme starts Monday 7th January – 14 weeks of daily coaching the very latest in weight loss, exercise, wellness Are you in?
The group opens in the next few days – make 2019 the year you make the change.
Do You Want To Offer Kick Start Programmes Online To Your Clients And Build An Online Brand? Use the Kick Start programmes Or  Rebrand To Suit Your Business Click here
Posted on