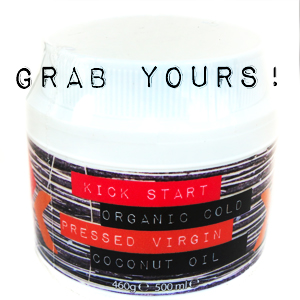 With the sale of our NEW Kick Start Organic Cold Pressed Virgin Coconut Oil tomorrow we thought we would tell you all about the many uses… some of these will REALLY surprise you!!
Cooking
Coconut oil is brilliant for weight loss and your health so use it for frying, roasting, grilling, juicing and baking!
Oil Pulling
This is like an oil mouthwash…there are quite a few studies that support this process and a lot of people swear by it. It is claimed to whiten your teeth, make your breath fresher and lead to massive improvements in oral health.
Healing
The healing qualities of coconut oil mean it is great to run on if you have a cut or burn, it will also help protect it from bacteria.
Hair mask
While in the shower, melt your coconut oil by running the jar under the warm water. Then, after shampooing, apply a generous amount of the oil to wet strands and twist hair into a bun. Let it sit for at least five minutes before rinsing to add moisture and shine!
Body oil
The coconut oil's creamy texture makes it the perfect light moisturiser. The smell is lovely and it is great for massage
Lip balm
Dab it on to ease chapped lips or just to give them a moisture boost!
Cuticle softener
Using your finger, swipe a small amount of the oil onto each of your cuticles and allow it to sink in. The coconut oil will strengthen your nails and hydrate the delicate cuticle skin, making your hands look more youthful.
Under-eye cream
The skin under your eyes is thin and delicate, making it prone to fine lines, puffiness, and dark circles. Just rub a pinch in between fingers to warm it up before patting it underneath your eyes.
Frizz fighter
Rub a pea size amount of coconut oil between your fingers to warm it up, and then apply it to the bottom couple inches of your hair for all day frizz protection. If you have thicker, coarser hair, apply the coconut oil from mid-shaft to ends for added frizz control. PLUS It also leaves hair extra shiny and soft
Highlighter
Glowy, fresh skin is in! But if that doesn't come naturally for you, just dab a little liquified coconut oil onto the tops of your cheekbones, cupid's bow (the dip above your upper lip) and just above eyebrows for hydrated skin that looks lit from within.
Body scrub
Mix a half cup of sea salt with an equal amount of melted coconut oil, and then use your hands to rub it over any rough patches of skin. The scrub moisturizes while removing dead skin cells. Your skin ill feel baby soft.
Grab yours tomorrow at www.KickStartFatLoss.net/Coconut
Posted on