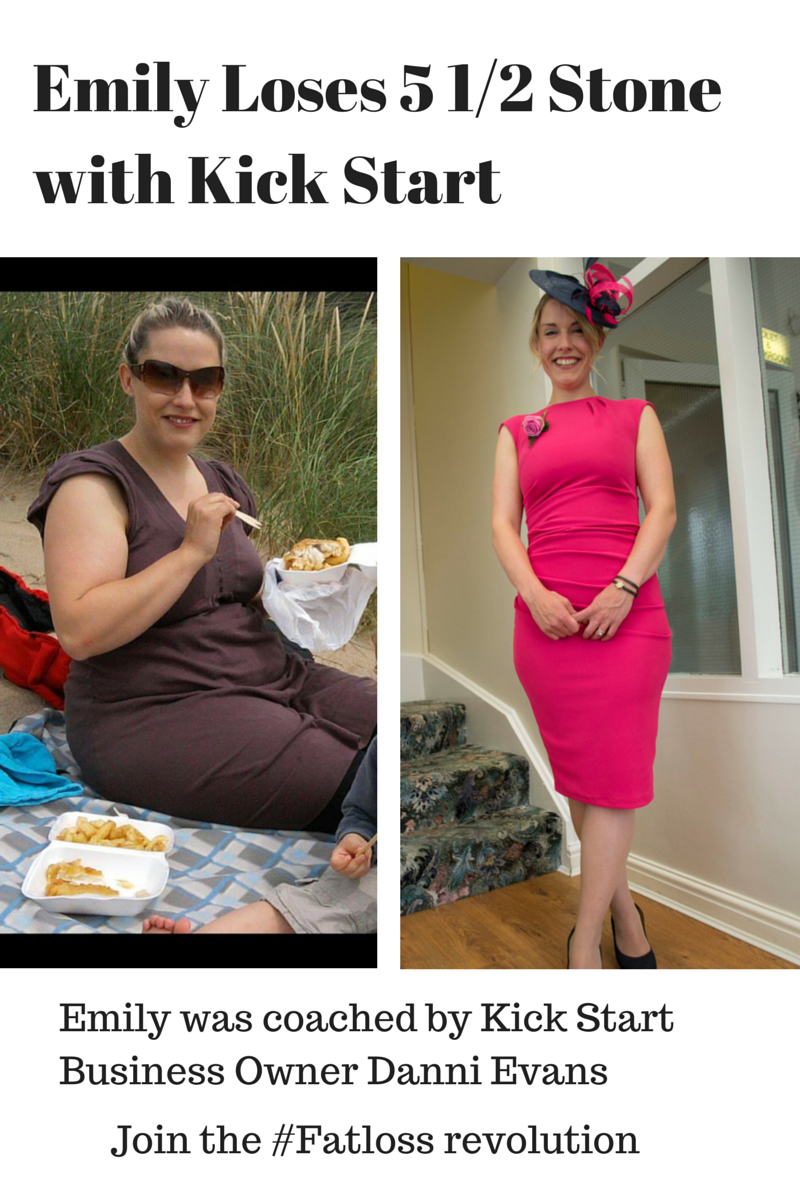 Emily Russell (35), from Shrewsbury, has lost 44 inches and dropped 5 stone after joining the Kick Start Fat Loss Online Detox Programme.
"After the birth of my second child my life began to get out of control as he was born with a cleft palette."
"The stress of this, plus over indulging so much during  pregnancy, which I continued to do after the birth, had got my weight spiralling out of control."
Just like so many other people Emily thought she was eating healthily – cereals and toast for breakfast, sandwich and crisps for lunch, home cooked dinner always with potatoes/pasta followed by a pudding, was her daily diet. She would have a daily snack of hot chocolate or cake most days at work.
"I realised that people who were slim after childbirth were that way because they had worked for it, or because they hadn't indulged during pregnancy. I realised I had  used pregnancy as an excuse to eat as much as I wanted. I saw photos of me with my gorgeous new-born boys but all I saw was me looking huge – it made me so sad to see such a big person and to be known as a "big girl", says the mum of two.
She joined Danni Evans online Kick Start Fat Loss Programme and never looked back.
"I had tried other Slimming clubs in the past and I'd lose a stone but as soon as I stopped going I would plonk it all back on plus more.  I needed to change my mindset and I needed to understand nutrition and  how it was affecting me."
On the Kick Start programme up to date nutritional education is key. There are no counting calories or points – it's about understanding the effects gluten, dairy and sugar have, not just on the body but on the brain, how you feel, your moods and why we get certain food cravings.
Kick Start Creator and Director Rachel Holmes says
"There is so much research on fatloss, nutrition, and the huge part hormones play in weight gain and weight loss. Balancing blood sugars and understanding the body's requirements for good carbohydrates, like vegetables, and including fat in the diet are all key to long lasting weight loss and optimum health."
Rachel goes on to say that there is so much outdated and ineffectual information around that the latest and results based info is not getting through to the general public.
The growth in popularity of The Kick Start Fat Loss Programme is proving more people are searching for a better way to achieve their goals.
In a typical day now Emily eats for breakfast a blueberry or banana omelette or scrambled egg with spinach and tamari toasted seeds. Lunch is a homemade soup or salad and dinner is slow cooked meat stews or curry.
"I love making my own pesto to top grilled chicken breast. On the side I always have loads of greens, literally 2 thirds of my plate," says Emily, who works with her husband in the family retail business.
Emily used to suffer from migraines, headaches and uncomfortable bloating before embarking on Kick Start.
"I am much more confident. It feels so different to be able to move unrestricted, to run and work out. When I have a treat I feel it instantly in my stomach and although I enjoy treats now as a balance to maintain my weight I do feel uncomfortable after having them and look forward to getting back to eating clean and not having any uncomfy bloating feelings or headaches," says Emily.
Emily aims to run a half marathon in 2015 & continue to work out and live the Kick Start lifestyle.
Posted on