What you eat is the crucial KEY to fat loss and exercise is just a small part of it…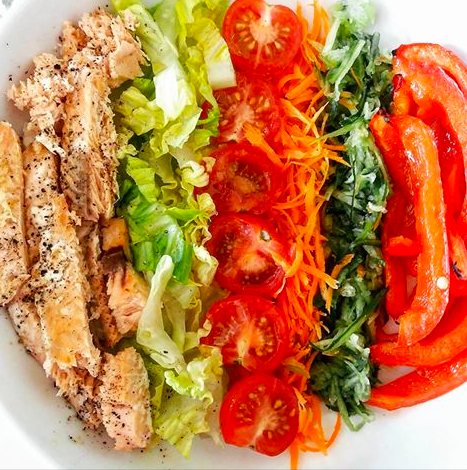 I see myself and the Kick Start Franchisees
more as Lifestyle Manager's.
Anyone can give you a diet sheet
and a set of exercises to follow and yes, you may follow
it EXACTLY and not deviate, BUT, if you still are not
getting the results you really want there are other equally important components to your overall success.
* Sleep.
*Mental health
*Emotional health
*Hormonal balance
*Being HAPPY!
Are just as important as working out every day.
When one or more
of those pieces are missing its really hard to get
to where you want to be.
Here are the Kick Start Six Steps To Success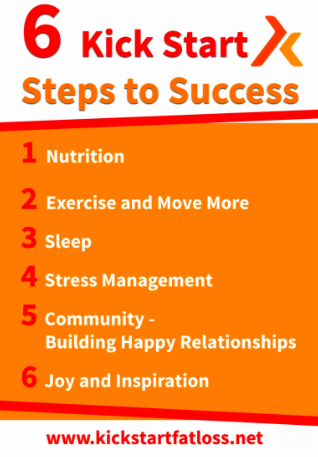 Today Let's look at Your Nutrition 🙂
Here is what you need to ask yourself…
WHAT are you eating?
Are you eating a lot of carbohydrates, dairy and gluten?
CUT THEM OUT and add in plenty of good fats, good carbohydrates ant most importantly VEGETABLES!
ARE you snacking?
It is a great idea to keep a food diary, you will be surprised how much you ACTUALLY eat in a day.
ARE you eating processed food?
Cook from SCRATCH with organic and high quality ingredients.
WHAT sort of workout are you doing?
Make your workout a HIIT workout… these are high intensity and get your metabolism boosted for the next 24 hours.
What Is Your behaviour around food, eating and meal times?
Are you eating in a rush? Do you eat differently when you eat with work colleagues, or family members or friends and your kids?
If you are stressed, excited, happy, sad how does this affect your food choices, speed you eat your food?
Be aware of the different behaviour you display around meal times in different circumstances – this is really interesting and you don't often think of it.
I am on Facebook live for Q&A and talking motivation, health and nutrition so jump on and join me live or watch the play back.
Love Rachel xxxx
……………………………………..
Do you want to do the Kick Start programme but don't want the live classes?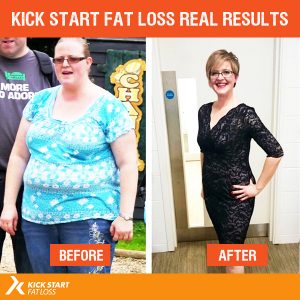 We offer a wide range of online programmes to suit your needs from 7 days to 8 weeks that will arm you with all of the information you need to lose weight and feel great INCLUDING a private Facebook support group which is invaluable…
…………………………………
Launching The BrainFit Workout™
in Essex on 1st July 2016
Plus The new Kick Start Discovery Days
KSFL Transformation & Wellbeing Day
With Rachel Holmes
and Helen Barness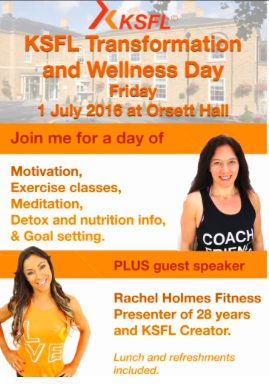 Venue: Orsett Hall
Thurrock
Essex
Are you Interested in
Becoming A Kick Start Fat Loss Franchisee ?
Rachel Holmes'
Kick Start Fat Loss 'Discovery Event!'
This is your invitation to apply to come and spend the afternoon with me in Essex on July 1st from 1pm till 4pm at Orsett Hall, Thurrock in Essex.
Manchester on 9th July – Manchester Airport Hotel.
I am holding special 'Discovery Events' for fitness professionals and entrepreneurs who want to discover more about becoming a Kick Start Fat Loss Franchise owner.
These are small group events – limited to a maximum of 15 people at each, because I will be giving you personal attention and focusing on how my team and I can best help you.
During the afternoon, I will be sharing the latest, cutting-edge marketing strategies we use at Kick Start Fat Loss to attract all the clients you need, without working any further hours.
This is only for you if you have a serious interest in becoming part of the Kick Start Fat Loss family and joining our other successful franchise owners.
Here's what we're going to cover:
• How to launch a LIVE Kick Start Class and the steps up to launch night.
• Running Kick Start classes and courses.
• How the Online Kick Start Fat Loss programmes work and run
• Latest nutrition updates.
• Harnessing the power of social media and digital marketing to fill your Live classes and online programmes.
• How the Kick Start 1 – 2 – 1 Online nutrition coaching operates.
Thanks for reading have a great day!
Posted on