CLEAN NANAIMO BARS.
KSFL STYLE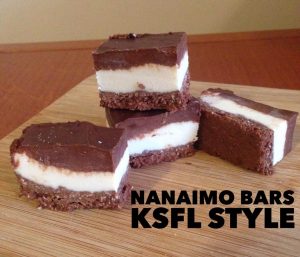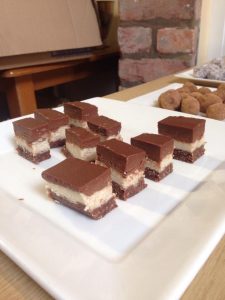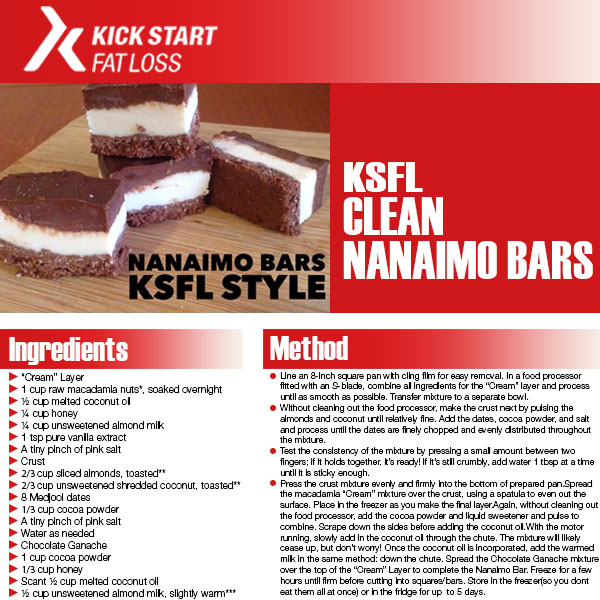 WE LOVE chocolate and chocolate brings every one together!
Laura who is the Kick Start Franchisee Owner from Ireland
created these EXCEPTIONAL bars… why don't you knock these up for Halloween.
Laura has been teasing us all week on social media for the recipe and here it is.
Please let me know what you think…..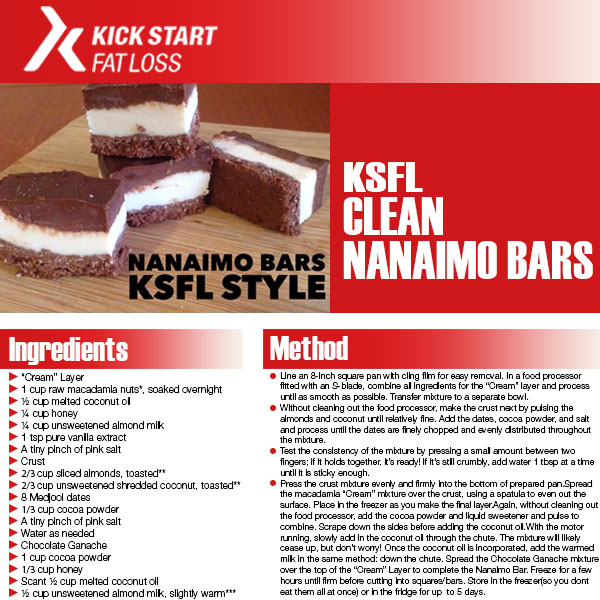 "Cream" Layer
1 cup raw macadamia nuts*, soaked overnight
½ cup melted coconut oil
¼ cup honey
¼ cup unsweetened almond milk
1 tsp pure vanilla extract
A tiny pinch of pink salt
Crust
⅔ cup sliced almonds, toasted**
⅔ cup unsweetened shredded coconut, toasted**
8 Medjool dates
⅓ cup cocoa powder
A tiny pinch of pink salt
Water as needed
Chocolate Ganache
1 cup cocoa powder
⅓ cup honey
Scant ½ cup melted coconut oil
½ cup unsweetened almond milk, slightly warm***
INSTRUCTIONS
Line an 8-inch square pan with cling film for easy removal.
In a food processor fitted with an S-blade, combine all ingredients for the "Cream" layer and process until as smooth as possible. Transfer mixture to a separate bowl.
Without cleaning out the food processor, make the crust next by pulsing the almonds and coconut until relatively fine. Add the dates, cocoa powder, and salt and process until the dates are finely chopped and evenly distributed throughout the mixture.
Test the consistency of the mixture by pressing a small amount between two fingers; if it holds together, it's ready! If it's still crumbly, add water 1 tbsp at a time until it is sticky enough.
Press the crust mixture evenly and firmly into the bottom of prepared pan.
Spread the macadamia "Cream" mixture over the crust, using a spatula to even out the surface. Place in the freezer as you make the final layer.
Again, without cleaning out the food processor, add the cocoa powder and liquid sweetener and pulse to combine. Scrape down the sides before adding the coconut oil.
With the motor running, slowly add in the coconut oil through the chute. The mixture will likely cease up, but don't worry!
Once the coconut oil is incorporated, add the warmed milk in the same method: down the chute. Spread the Chocolate Ganache mixture over the top of the "Cream" Layer to complete the Nanaimo Bar. Freeze for a few hours until firm before cutting into squares/bars. Store in the freezer(so you dont eat them all at once) or in the fridge for up to 5 days.
ENJOY EVERYONE!!!!!!
Love Rachel xxxx
Posted on