PRESS RELEASE
For immediate release (29/08/2014)
Lowestoft Mum Loses
9 1/2 Stone doing KSFL ®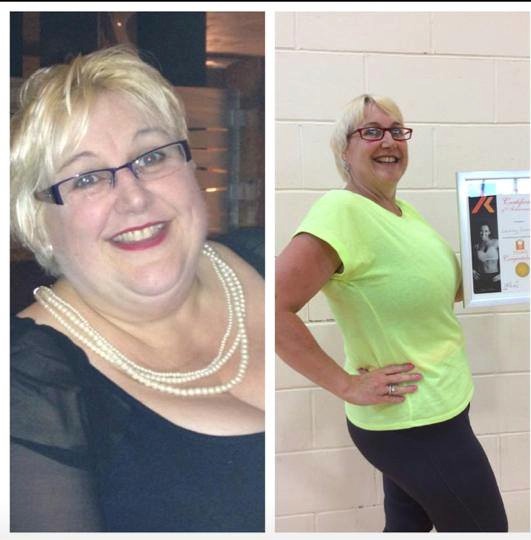 Mum of two, Lesley Gooch, from Lowestoft, has lost
a jaw dropping 9½ stone going from  a size 28 to a size 14.
The 47 year old teaching assistant from Oulton Broad
joined her local Kick Start Fat Loss
Club after attending a workshop with KSFL® Creator
Rachel Holmes in June 2013 and has never looked back.
Previously, 12 years ago after having her second son,
Lesley started to pile on the pounds and within 18 months
had gained a whopping 7½ stone.
"It got to the point where I could no longer sit on the
chairs at school and could only sit on the floor."
"I felt so self-conscious but I couldn't stop binge eating,
I would wait till my husband had gone out then eat
crisps, chocolates and biscuits. I was a complete secret eater
and was out of control" said Lesley (47)
It was then Lesley spotted a leaflet about a new club
called Kick Start Fat Loss run by local fitness Instructor
Helen Pybus.
Helen is the Kick Start Fat Loss franchisee for Lowestoft
and Lesley had attended Helen's Zumba sessions in
the past.
Lesley attended a talk held by Rachel Holmes
and decided there and then to sign up for local classes.
"I have been on every single diet under the sun but listening
to Rachel talk about clean eating, balancing hormones,
and how sugar is the enemy rather than fat, the penny dropped
and I knew this was the way forward for me. It all makes perfect sense."
Under the expert guidance of Helen Pybus, Lesley dropped
15lbs in the first week which gave her the motivation and encouragement
to keep going.
"KSFL has never been a diet for me, I love cooking from scratch,
my whole family all eat the same food and I have never ever felt better.
If I can do it then anyone can!"
____________________________________________________________
Notes For Editors
* Contact Rachel Holmes
* www.KickStartFatLoss.net
* Contact Number 07976 268672
* Available for Interview
Posted on